Light Steel Prefabricated/Prefab/Portable Building House
K Type Prefab House
The prefab K(1K=1820mm)house is become more popular for quarters and dormitories of any project, because it can be installed with less of time and minimal cost. It is made of light steel structure frame and sandwich panels for the walls and roof. And for the K type house the steel structure frame is right on the wall. The structure is connected by bolts and the walls are fixed with rivets. When loading the steel structure parts and panels are light and easy to pack and transport. We can follow the customer layout and their requirements to design the house, The houses are light and can be relocated several times with less wastage.
Prefab House Characterstics
1.Environmentally friendly, no waste produced during assemble.
2.Flexibility when fixing doors, windows and interior partitions.
3.Beautiful appearance, different colors for the walls and roof.
4.Cost saving and convenient to transport.
5.Rust proof with around 10 years service life.
6.Good ability to assemble and disassemble for several times.
7.Heatproof, sound proof and waterproof.
Prefab House Structural Drawing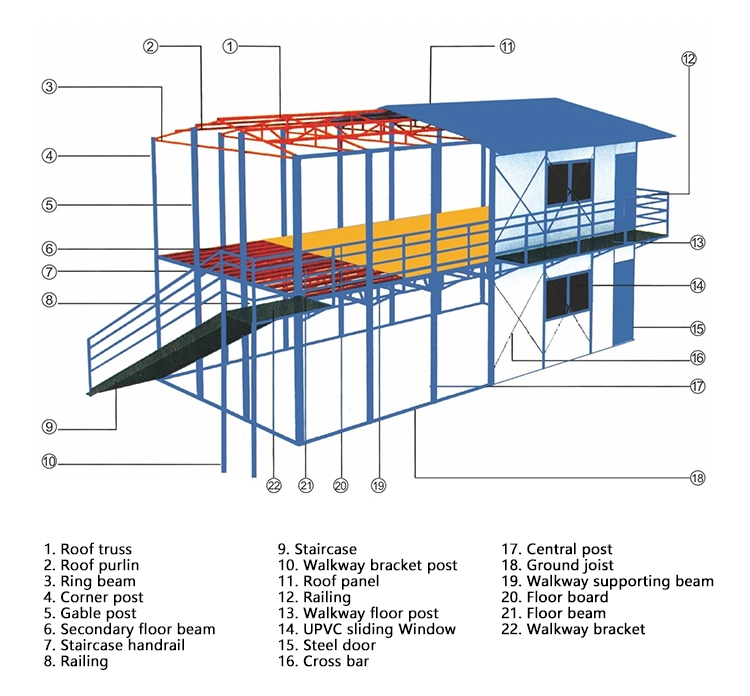 K Type Prefab House Picture Display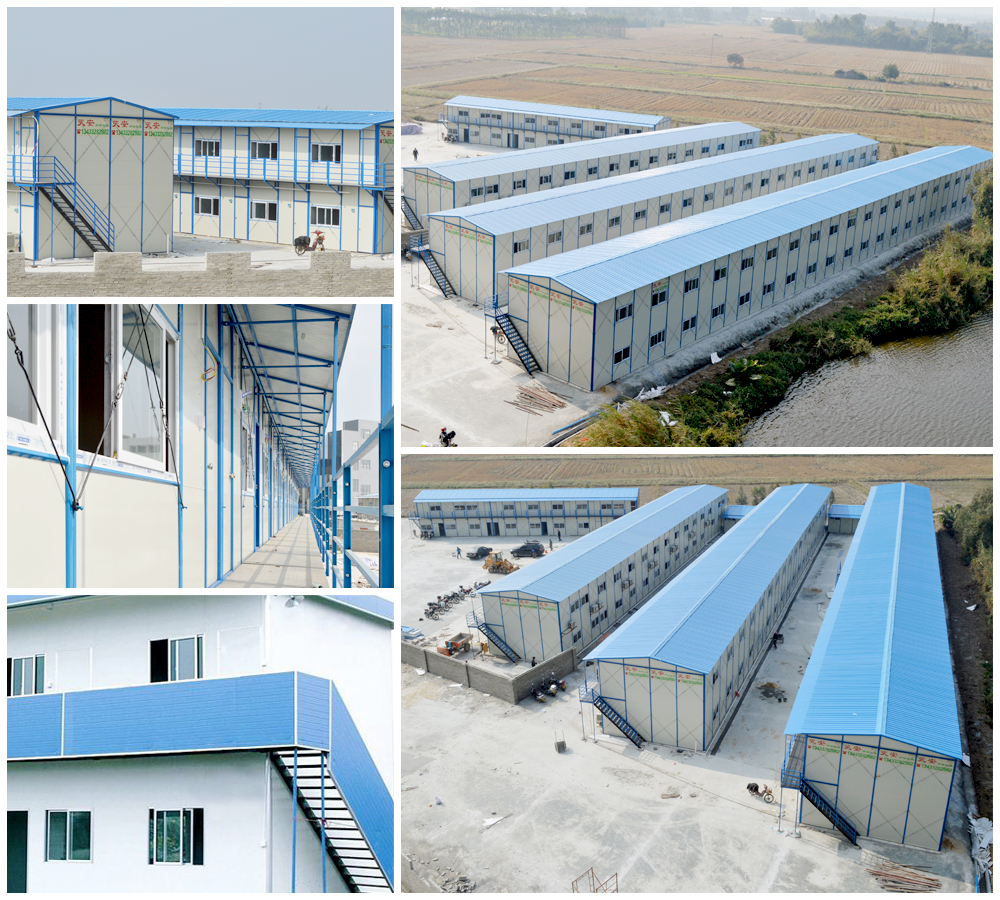 Materials List
| | |
| --- | --- |
| Ground beam | C80*35*15*1.5mm steel |
| Stand coloum | Double C80*35*15*1.5mm steel |
| Ring beam | C80*35*15*1.5mm steel |
| Corner column | Double C80*35*15*1.5mm steel |
| Herringbone beam | 8#C steel |
| Floor beam (2 floor) | 8#C steel |
| Floor purlin | 8#C steel |
| Sidewalk board | 2.25mm chequered plate |
| Stairs | 16#C steel+2.25mm chequered plate |
| Floor plate | 15mm plywood |
| Roof purlin | L40 angle brancing |
| Exterior wall panel | 50mm EPS steel sandwich panel |
| Innerior wall panel | 50mm EPS steel sandwich panel |
| Roof panel | 50mm EPS steel sandwich panel |
| Door | EPS Steel sandwich panel door with ball lock and keys |
| Window | PVC Sliding window |
| Accessories | Screws,bolts,nails,glass glue ect |
Prefab House Sandwich Panel Instruction
I>EPS sandwich panel(Wall&Roof)
Corrugated Steel Sheet are made by hot rolled galvanized steel coil, then treated by degreasing, phosphating, chromate and others. Coated with organic fluorine, resin coating.

II>Glass wool sandwich panel(Wall&Roof)
Glass wool sandwich panel consists of glass fiber and 2 layers of steel sheets. Glass wool sandwich panels are excellent choice for heat insulated roof and wall cladding of industrial and commercial buildings.

III>Rock wool sandwich panel(Wall&Roof)
Rock wool sandwich panel is applicable for the project of high request firing prevention.

IV>PU sandwich panel(Wall&Roof)
Polyurethane sandwich panel is a upgraded material compare to traditional building material, as a kind of new type of multi-functional building material, it consists of steel plate at both side and polystyrene sandwiched.
Wall Panel Insulation Showcase

Roof Panel Insulation Showcase

About Us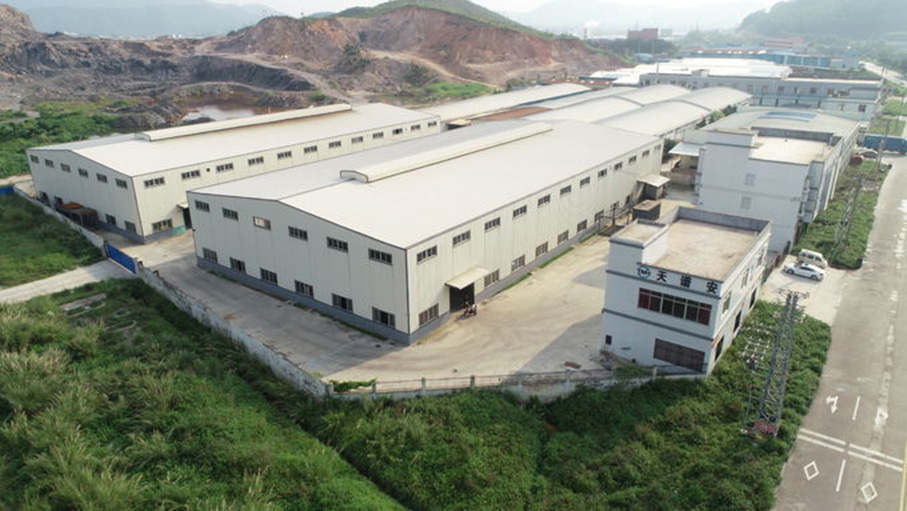 Foshan TianPuAn Building Materials Technology Co.,Ltd.(TPA housing),was is founded in 2008. Since then, we have been a professional manufacturer of steel structure building,container house,prefabricated house, railings, light steel villa, sandwich panel and profiled steel with ISO9001&SGS certification. We have two production workshop(Lishui town/Gaoming town)with total area covered 20,000square meter plant and equipped an automatic spraying line and automatic welding machine.
Prefab House Production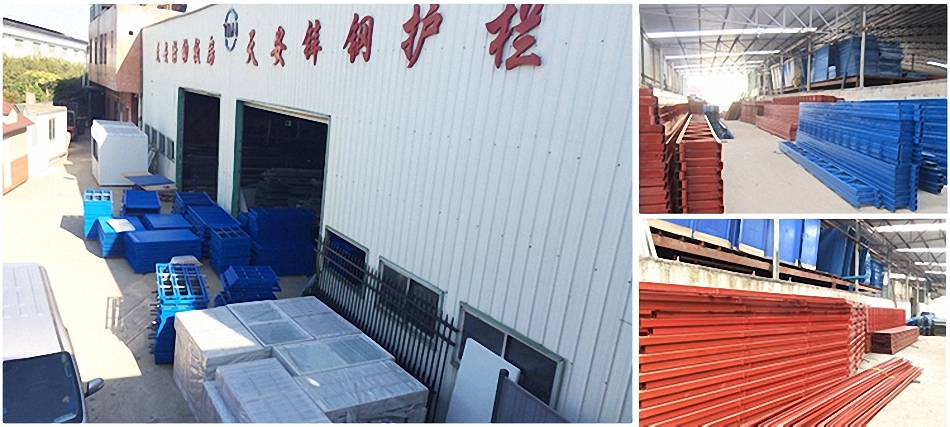 We focus on producing custom-made economic and environmentally friendly prefab house. With the Specialized technology professional design team and high-quality construction team we undertaken hundreds of prefab buildings production and installation, got the consistent high praise of the clients.

Packing & Shipping

Our Services
1. Project Services
Simple or complex,our specical project services team quickly an expertly handle your project.
2. Private manufacturing services(OEM)
We can manufacture and deliver high quality metal building system under your brand name.
Private Label Services.
3.Private Label Services
Promote your company name and brand as a top resource for cost-effective, quality metal buildings.
We'd love to give fully support for your further inquiry!
Let's Get Started!