HDPE geomembranes are available in a variety of surface finishes including textured, smooth and conductive. Textured finishes provide higher friction angles to prevent slippage of adjacent materials when lining steep slopes while smooth geomembranes are the preferred products for lining projects requiring low permeability. Due to the relative stiffness of HDPE, field seaming by Tianhai's trained geomembrane installers is generally required.
The Specification of HDPE geomembrane
Thickness is from 0.12mm to 4.0mm and breadth is from 4m to 9m. Length shall be designed according to engineering design and clients` requirements.
Thickness

0.12mm-4.0mm

Length

50m/roll,100m/roll,150m/roll or as your choice

Width

4.0m-9.0m or as your choice

Color

White/Black/Blue/Green, mainly black

Material

HDPE

Delivery port

Qingdao

Package:

woven bag or as customers' requests

Product time

2-20 days

Features

1.Good physical and mechanic performance

2.High tearing resistance, strong deformation adaptability

3.Puncture-resisting, aging resisting, ultra-violet radiation, oil and salt, and corrosion resistance

4.Good adaptability to high and low temperature, non-toxicity, long service life

5.Good waterproof, drainage, anti-seepage and damp proof effects

6.Complete width and thickness specifications, low cost and easy installation.

Note

We can do as your demand,please feel free to contact us for more information

The Application of HDPE geomembrane


1) Environmental protection sanitation (such as solid waste landfills, sewage treatment plants, power plants Chi-conditioning, industrial, hospital solid waste, etc.) .
2) Water (such as rivers, lakes and reservoirs of the anti-dam, plugging, reinforcement of the canal seepage, the vertical wall of the heart, slope protection, etc.).
3) Municipal Engineering (subway, on the ground floor of the building, planted roof, the roof garden of anti-seepage, sewage pipes lining, etc.).
4) Landscape (man-made lake, river, reservoir, golf courses reservoirs of the substrate, slope protection, green lawn of the waterproof moisture, etc.).
5) Petrochemical (chemical plants, oil refineries, gas storage tanks of the anti-chemical reaction tanks, sedimentation tanks of the lining, etc.).
6) Mining (washing and pool heap leaching, the ash-field, dissolved, precipitation, the yard, the tailings seepage substrates, etc.) .
HDPE geomembrane technical index of ASTM test GM 13 standard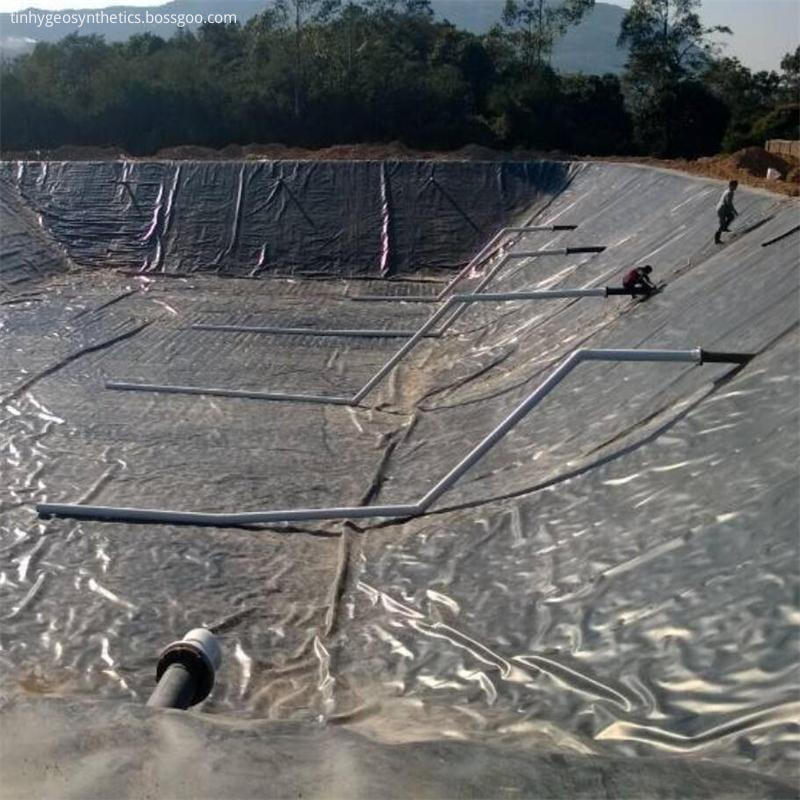 Technical data
No.

Item

Test Value

0.75mm

1.0 mm

1.25 mm

1.5 mm

2.0 mm

2.5 mm

3.0mm

1

Minimum Density(g/cm³)

0.939

2

Tensile Property

Strength at yield,N/mm

11

15

18

22

29

37

44

Strength at break ,N/mm

20

27

33

40

53

67

80

Elongation at yield,%

12

Elongation at break,%

700

3

Tear Resistance N

93

125

156

187

249

311

374

4

Puncture Resistance N

240

320

400

480

640

800

960

5

Stress Crack Resistance, hrs

300

6

Carbon Black Content, %

2.0-3.0

Carbon Black Dispersion

1 or 2

7

Standard OTI Min

100

High Pressure OTI Min

400

8

Impact Cold Crack at -70°C

Pass

9

Water vapor permeability

(g.cm/cm2 .s.Pa)

≤1.0×10-13

10

Dimensional Stability (%)

±2
Geosynthetic clay liner(GCL) is a new type of geosynthetic materials,.It is by a layer of clay or other low permeability mineral material that covers of geotextiles or geomembrane,so it's a environmental ecological composite impervious material.According to engineering need,it still can cover HDPE membrane on the GCL.In order to adapt to the need of special environment,achieving more ideal impervious effect.
Our products bentonite waterstop,rubber waterstop,PVC waterstop, Geosynthetic clay liner(GCL),Geogrid,Flashing,and some hardwares,include Concrete Nails,Drive pin,Fastener and so on.
Certification