Starter Armature For Bosch 211 Series Starters,1004012452 1004012917 1004014104
SPECIFICATION
ZOWO NO.
ZW003-ARM

ORME NO.
IM125
WAI NO.


OEM NO.
1004012404
1004012407
CARGO:130062
WOODAUTO:WSA1888

DESCRIPTION
VOLT:12V
DIM:222MM
O.D:Ф60
FRONT:Ф12
REAR:Ф12.5
SPLINES:10T
SLOT:23

APPLICATION
-
Premium quality armatures for your best choice
We stock more than 10,000 part numbers for your cars
Looking for Parts, Repair Kits and Upgrade kits couldn't be any easier using the Vehicle Search or Part Number Search.
We have a Part Search Help page and a Parts assistance form for online help or give us a call 0086-13515886684
Best selection,Best price, Best service for you here!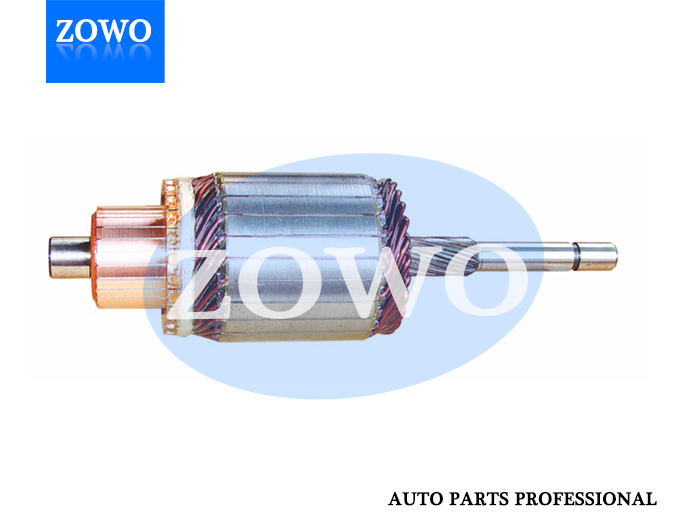 Ningbo zhongwang auto fittings co.,ltd offers a wide range of 300 models of Starter armature, including Direct Drive type and Gear Reduction type armatures. The products are spot welded with case hardened shafts, laminated using virgin steel and impregnated in a controlled environment that is fully automated.The Starter motor armature are supplied to all over the world.
As a professional supplier in China of Car alternator , Auto Starter motor and their components for the aftermarket, Ningbo zhongwang auto fittings co.,ltd has been proudly serving for our customers for over 20 years.
Our products are widely acceptable by cars, trucks, buses, forklift, heavy duty equipment, equipment for the marine industry and others, with currently over 8,000 different Car alternator, Starter motor and componets. Such as Starter motor armature,Starter motor solenoid, Starter motor brush holder, Starter motor bendix, Alternator regualtor, Alternator rectifier etc. Adopting high-tech testing machines designed by international company D & V Electronics Ltd., we are better equipped to diagnose the products we produce. To execute quality control, our products are 100% tested. Under the strict standard of processing to ensure products quality meeting our customer's requirement and satisfaction.
Based on the professional and experienced manufacturing team and service team, Ningbo zhongwang can provide high quality products, competitive prices and good service for our customers.

Tips:
What is an Starter motor armature and how does it work?
Starter motor armature is a power-producing component of a motor and its key function is to convert electrical energy to mechanical energy. Armatures used in Starter motors are made up of coils which carry current and rotate in a magnetic field. The armature wiring in copper enhances electrical efficiency due to its higher electrical conductivity.
An armature has a continuous series of windings from each bar on the commutator, which loops around the iron stack teeth and connects to the next bar on the commutator. The winding continues to loop all the way around the armature in the same manner. Loops are either single or parallel conductors and might circle any number of times around the stack teeth turns in a coil. This phenomenon is commonly called 'Turning in a Coil'. The wire may vary in gauge, as is required by the design of the motor. Each wire is insulated with an enamel coating or insulation, isolated from every other wire in the loop and only terminating at the commutator bar. The turns in every coil wrap around the iron stack to create an electromagnet. When energized, an electromagnetic field is generated in the motor armature. This electromagnetic field interacts with the magnetic fields of permanent magnets in the motor, in the case of permanent magnets in the motor, otherwise the electromagnetic forces work to attract each other, inducing a torque on the armature shaft thus causing it to turn.
The armature winding will start rotating due to force exerted on it and will cut the flux lines. Thereafter, according to Faraday's Law of Electromagnetic Induction, emf is induced in it. When this winding carries on, it produces its own mmf (magnetomotive force), which is known as an Armature Reaction. Such an armature's reaction generates eddy current in the armature which may result in losses in the machine. Due to the armature's reaction, the flux in the air gap is strong at one end and weak at the other. This effect is called the Cross-Magnetizing Effect.